The Syrian Electronic Army (SEA) decided to show up for Thanksgiving this year.
Gigya, a U.S. customer identity management platform, was compromised by the SEA. Visitors to CBC, CNBC, Forbes, OK magazine, The Chicago Tribune, The Daily Telegraph, The Independent and The New York Times all saw the message, "You've been hacked by the Syrian Electronic Army (SEA)"
The SEA confirmed the attack through a
tweet
, displaying the apparent screenshot of the control panel for Gigya.com.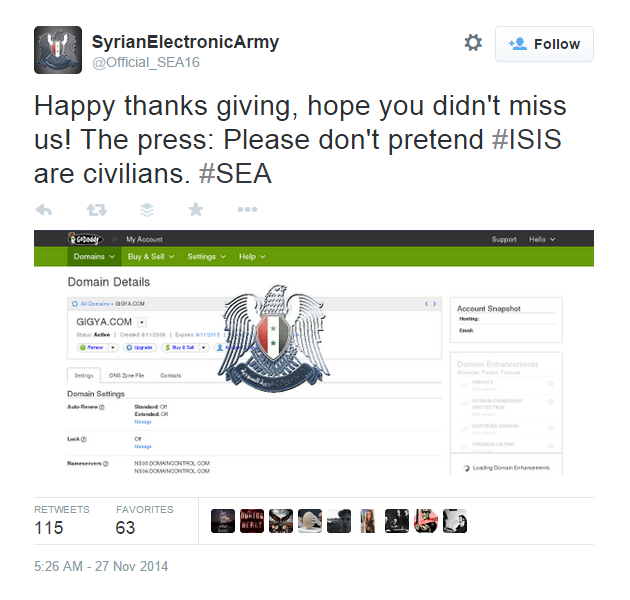 In a blog,
Patrick Salyer
, CEO of Gigya, explained the attack:
"At approximately 6:45 AM EST we identified sporadic failures with access to our service. An initial inquiry has revealed that there was a breach at our domain registrar that resulted in the WHOIS record of gigya.com being modified to point to a different DNS server. That DNS server had been configured to point Gigya's DDN domain (cdn.gigya.com) to a server controlled by the hackers, where they served a file called "socialize.js" with an alert claiming that the site had been hacked by the Syrian Electronic army."
Since the attack, the DNS records have been restored, and no one lost any user data.
Is this the Syrian Electronic Army's way of saying happy Thanksgiving?