Home Depot is the top discussed cybercrime target so far this year, according to data from
SurfWatch Labs
. The company is once again in the news following the announcement that more than 50 million email addresses were also stolen in addition to the 56 million payment cards previously announced.
Apple is in the #4 spot, which is neck and neck with Android in terms of cybercrime chatter this year. That's interesting since Android is generally thought of as the less secure platform.
The top 10 trending industry targets related to cybercrime so far in 2014:
1. Home Depot
2.Microsoft
3.Android
4. Apple
5. Target
6. Facebook
7. JPMorgan Chase
8. Twitter
9. Feedly
10. Israeli Government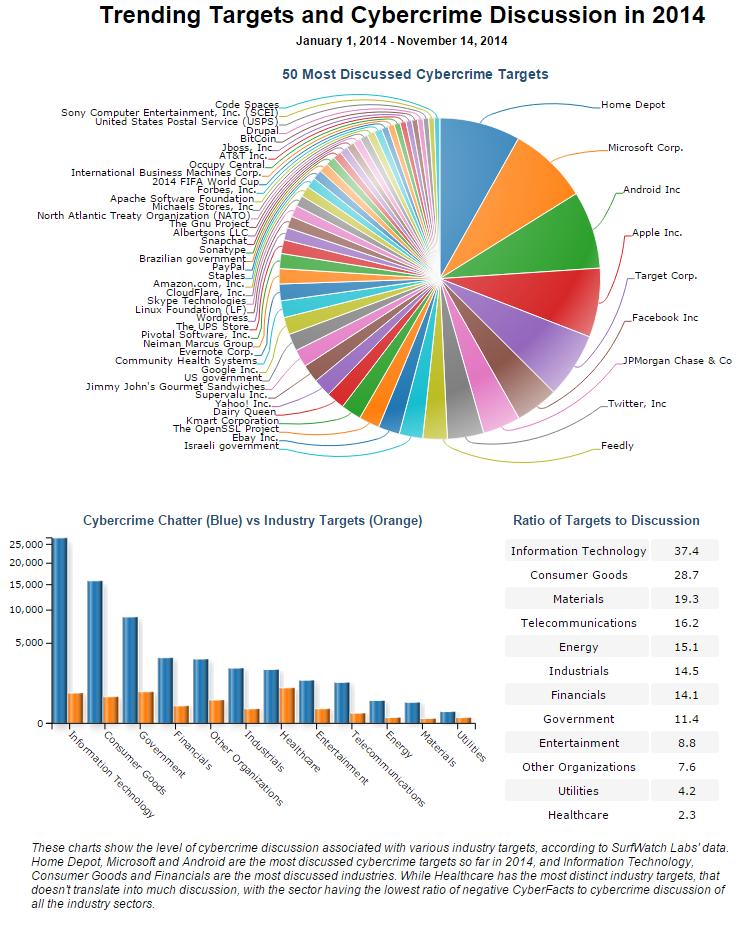 Attacks in the IT and Consumer Goods sectors appear to carry the furthest in terms of discussion. I suspect this is due to the more public nature and widespread effects of the breaches in these sectors.
Materials, Telecommunications and Energy round out the top 5.
Healthcare is right in the middle of overall discussion and also has the most distinct cybercrime targets so far this year. But when looking at the ratio of industry targets to discussion, it has by far the lowest levels of any sector. Utilities has the lowest overall discussion and the second lowest ratio of industry targets to discussion.